Be the Change You Wish To See In The World! 
But The Question Is, How? 
The Answer: By Opting For eco-friendly packaging for bath bombs From The Cosmetic Boxes UK!
The right eco friendly packaging for bath bombs will show your brand identity and explain your product's benefits. The colour, shape, and other design elements convey information to potential customers. In addition, this packaging will be an effective way to communicate your product's benefits and features. 
So, if you want the best packaging for your bath bomb, here are some creative tips and tricks to design your product packaging.
Eco Friendly Packaging For Bath Bombs Helps to Create a Lasting Impression 
There are many advantages of eco friendly packaging for bath bombs from The Cosmetic Boxes UK. This packaging box offers flexibility, portability, and durability. Moreover, the boxes are an ideal way to store and preserve this unique product. For more information, you can contact our sales representatives at any time. They'll make your product look even more memorable!
Let's take good care of our planet. Together with eco-friendly packaging!
A beautiful, professional-looking bath bomb box can create a lasting impression on your customers. A transparent window on the box allows customers to examine the product without opening it. A bright ribbon is another way to draw attention to the product. In the end, a custom-made box will help to enhance your brand image and increase your sales.
Eco Friendly Display Boxes Help Your Business's Marketing Strategy
When choosing eco friendly packaging for bath bombs, guarantee that it's made from eco-friendly materials. These packaging options minimise land waste and reduce the impact of these goods on marine life. A quality packaging company will design and print your bath bomb packaging to complement these goals. 
Besides being functional, eco-friendly bath bomb packaging is more striking and promotes your company's green stance. In addition, it's easy to recycle and is perfect for packaging bath bombs.
Custom bath bomb packaging is flexible to fit your business's unique needs. You can pick the colour and pattern of your packaging based on your audience's preferences. 
In addition to allowing your audience to choose a colour that matches their box tone, you can also use CMYK or Pantone printing for your labels. 
With eco friendly packaging for bath bombs, you can create any design, from simple to intricate. Additionally, the box is integral to your business's marketing strategy.
Create Cardboard Boxes for Bath Bombs
Kraft is another great option for cardboard boxes for bath bombs. This natural material does not undergo any processing and is brown. Cardboard boxes are biodegradable and eco-friendly. 
You've made a perfect choice!
When choosing eco-friendly options for your bath bomb packaging boxes, ensure that the boxes are prepared from recycled materials. You should also ensure that the box is moisture-proof and can lock in the desired features and aromas. 
Moisture-proof packaging is an option you should consider if you sell your bath bombs online. These boxes are also ideal for gift-giving during the holidays. They have great graphics and are easy to close, ensuring the safety of your product.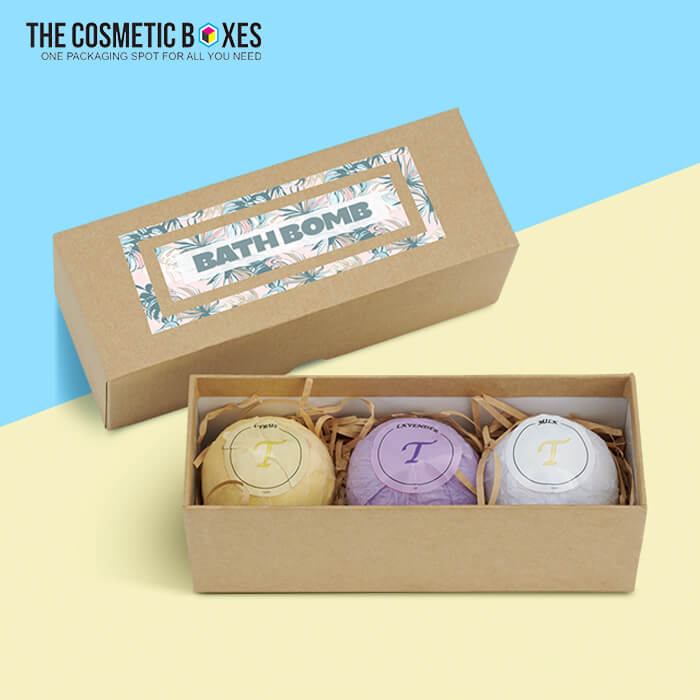 Choose Different Premium Materials 
You can also choose eco friendly display boxes for your products. Wholesale bath bomb boxes can be printed with your logo and product details. 
Furthermore, these boxes can also reuse. Since these boxes can be recycled, they won't add to the environmental impact of your bath bombs. And they're not only eco-friendly but also a great way to enhance your brand image and increase sales.
The shape of custom bath bomb boxes will be an essential consideration for this product, as it influences the buying decision of potential customers. 
Bath bombs are sensitive and should pack in a sturdy container to prevent the enthusiasm of the product. A strong box will be handy for transporting multiple products. On the other, it is necessary to consider the cost of such a box before deciding on its shape.
"Quality in a service or product is not what you put into it.
It is what the customer gets out of it."
A Window Shape Make Attractive Bath Bomb Packaging Ideas
Choose a window shape for attractive eco friendly packaging for bath bombs ideas. This helps present the product visually in an appealing way. 
A window pane can also use. In addition, the product's colour may be highlighted by the window, and the shape of the box can be changed to reflect the colour of the contents.
What's more, the shape of the box can easily be customised to suit whatever occasion. Better yet, this packaging can prepare from different materials, such as cardboard and paper.
Buy less, choose well.
Make it last!
Moreover, good design and good colours are also crucial. Custom bath bomb packaging wholesale should come up to be artistically appealing in customers' eyes. People are generally appreciative of decent styling with light colours. 
Printing on the bath bomb packaging should be legible and readable. The shape of the box may also improve the product's overall appearance. Moreover, a unique and attractive box can make a brand stand out in the market.
Customise Your Bath Bomb Packaging with Themes and Add-Ons
Regarding branding and company requirements, bath bomb packaging from our company can customise to meet specific needs. 
Different materials and printing methods can use to create a package that reflects the company's and brand's personality. 
Packaging can customise with themes and add-ons to create a unique look for the product. Select a custom packaging solution provider capable of handling the process to get the best result.
Are You Excited To Buy? 
If you are excited to buy eco friendly packaging for bath bombs, contact us now! We are ready to help you in any matter related to the printing and packaging of custom boxes. At The Cosmetic Boxes UK, you can find various designs and styles of custom packaging boxes with logos that you can select according to your product requirement. So without waiting for more, ping us now!
We are ready to serve you!