The "Easter" name seems to go back to the name of a pre-Christian goddess in England, Eostre, who was celebrated at the beginning of spring.
However, the only reference to this goddess comes from the writings of the Venerable Bede, a British monk who lived in the late seventh and early eighth century.
Easter is a beautiful time when sweets and chocolate come in great focus. However, everyone requires boxes and accessories to encase beautiful sweets and other gifts.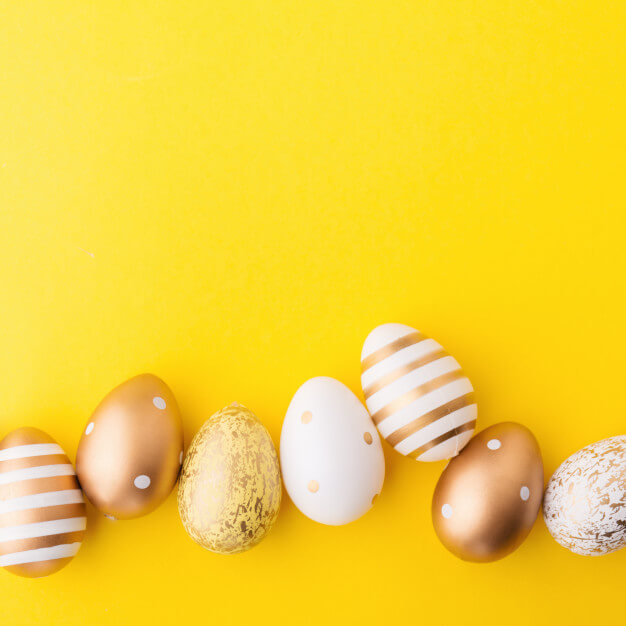 Moreover, you can personalize your packaging with Easter bunny labels, egg labels, little flags and charming bows. If you are the owner of a bakery or sweet shop, you are sure to find the perfect accessories to present your goods to customers.
Therefore, you can design a box for chocolate eggs in different sizes, with a transparent lid so what's inside can be seen!
However, you can surprise your dear ones with Easter eggs and sweets in beautiful nice original boxes or accessories!
Following are some of the enticing gift box ideas which you can adopt to gift your dear ones.
Carrot Box
You can customize a carrot gift box to surprise whoever you wish with little gifts. However, you can add small size Easter eggs in the box as well.
Moreover, you can add a fun touch to your presents with this little box. The triangular box looks ideal for jewellery, sweets or any kind of small gifts.
You can avail this triangular box in orange cardboard material with a green sprig which you can get from TheCosmeticBoxes.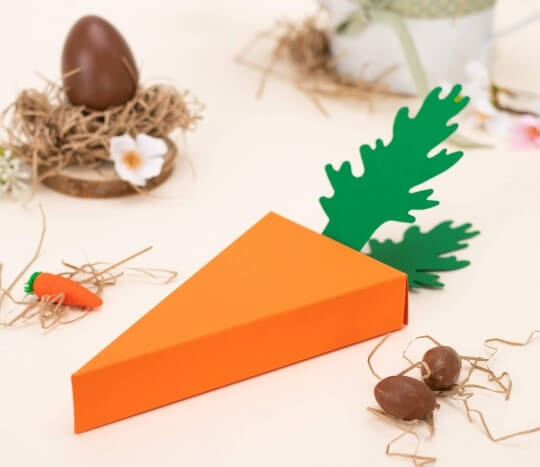 However, a carrot box will be a perfect surprise box. Moreover, it will give a great touch to your Easter presents or any other celebration.
However, you can surprise everyone with this carrot box. In it, you can put chocolates, sweets, etc. The possibilities are endless! You can load up little gifts for a very original present! However, this box is perfect for Easter or any celebration!
Bunny Gable Box
The bunny gable box has a lovely shape to encase Easter eggs. However, it is perfect for filling with chocolate eggs and sweets. Hence, people of all ages will love it. However, these boxes are easy to assemble.
You can add a coral cotton string or washi tape printed with banners on the box. Moreover, you can choose the quantity of boxes according to your choice.
However, the number of accessories will be adjusted automatically to the material needed to customize them. This rabbit-shaped gift boxes are perfect for Easter event.
It is ideal for Easter eggs. However, you can avail this box in cardboard material. Moreover, the rabbit-shaped box is made up of only one piece. However, it is very easy and quick to mount. Further, it closes with a flap situated between the ears of the little animal.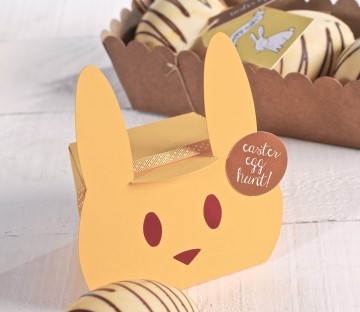 For its cute bunny shape, you can also use this box for children, birthday, baptism parties or as baby shower treats.
Moreover, place Easter eggs in it to make them look fabulous. However, it gets covered from the upper side; hence it gives great protection to fill it with candies or sweets, and use it as a treat at Easter event.
Transparent Boxes for Chocolate Easter Eggs
The transparent boxes for chocolate Easter eggs looks tremendous. However, this box contains a transparent plastic cover to protect your eggs or sweets. Moreover, you can avail a PVC cut cardboard box.
This is a perfect box for encasing Easter chocolates, eggs, cupcakes, etc. However, you can avail this box in cardboard material with a plastic or PVC cover and cellular plastic base which you can buy in any colour that you like the most.
Moreover, TheCosmeticBoxes – UK provides full colour and design customization of boxes.
It is easy to assemble these boxes as no kind of adhesives are used while manufacturing.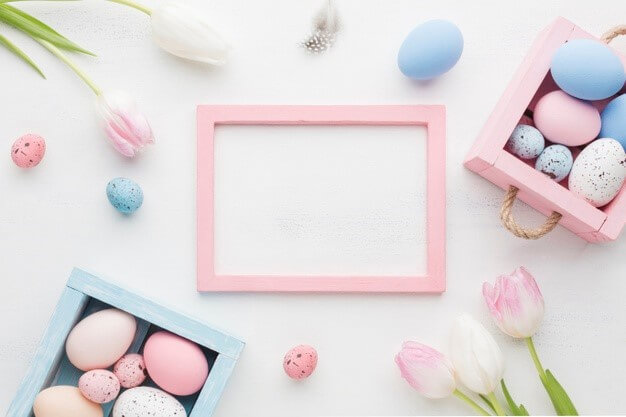 Moreover, you can customize the top cover of the box according to your requirements. The transparent box is perfect for placing Easter pastries, cookies, candies, etc.
Moreover, you can place on it your bakery creation and give it as a present with a special treat inside this box which is for decorated cookies.
Moreover, you can also use it for small gifts with plain form, or for accessories or other complements.
Popcorn Box for Easter Eggs
The Easter eggs will look awesome in popcorn boxes. However, you can also fill it with candies and sweets or place it on tables at the Easter event to surprise your guests.
Moreover, you can choose a size which you prefer and fill it with Easter candies! The popcorn box is simple and easy to assemble.
However, it is the most flexible box. Its sides formed as waves give a nice touch to your events. Further, it is available in different sizes and multiple colours.
You can have the popcorn boxes in cardboard material or in any other material as well according to your desire.
Moreover, you can decorate your table by placing chocolate sticks in these boxes. However, it is suitable for candy bars and Easter eggs, or to fill it with cookies or sweets.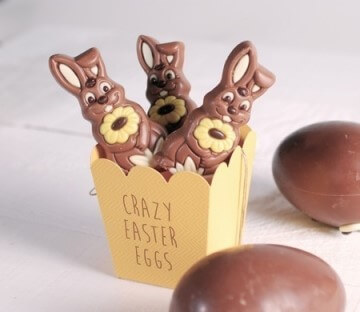 However, you can also use it as an original gift box and decorate it personally suiting your own taste. Hence, a lovely and special Easter gift boxes are ready.
Rectangular Boxes for Easter Chocolate Eggs
The rectangular chocolate Easter egg box look enticing. However, you can avail boxes which includes a transparent belt so that you could see the sweets which the box contains.
Moreover, you can buy cardboard boxes. However, the rectangular box is perfect for pastries and bakery shops.
The rectangular box is made up of a cardboard base in the form of a barrel, available in various colours and of a transparent plastic belt which protects its interior and functions as a closure.
However, this is an easy to mount cardboard box, and it will make your Easter eggs and sweets look luminous.
This box is made especially for containing Easter small cookies and eggs. Moreover, for its dimensions, it is perfect for pastries and other Easter goodies.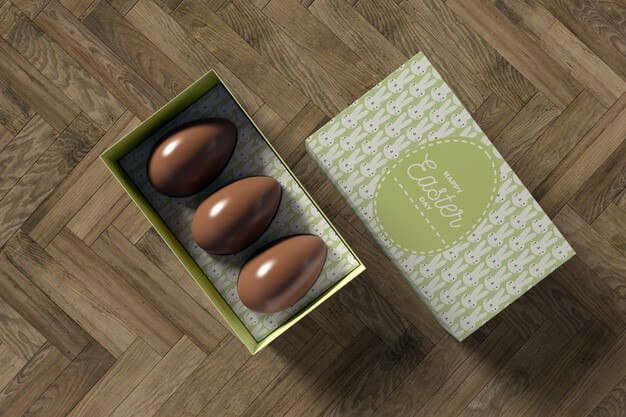 Easter Egg Baskets
You can avail Easter egg basket retail packaging boxes as well. However, the basket gives a fabulous touch to the most traditional sweets. Moreover, you can use it to fill with chocolate eggs and give as a gift as well.
Furthermore, you can embrace it by adding washi tapes in fluorescent colours, mini round stickers, etc.
Do you Want to Have the Same Easter Boxes as Discussed Above?
Now, it is sure that you are impressed to have a similar and unique quality of Easter box for your great Easter event. However, you can get awestruck packaging designs for your event by giving your desired design order at TheCosmeticBoxes.
Here at TheCosmeticBoxes, you have access to the great design at an affordable and reasonable price. However, we are gratified to claim that our reviews and feedback from clients are great in the market.
Moreover, we will design your packaging in an awesome way that it will portray your product and brand positioning in the market. So, contact us right now to place your order.