One Person Never Does Great Things In Business. A Team Of People Does Them. 
So Why Wait For More?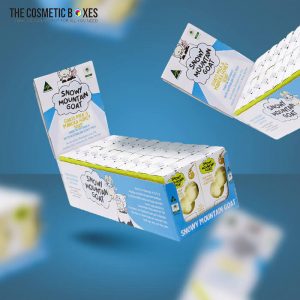 Nowadays, no product comes without packaging because consumers prefer things that are perfectly preserved and packed. Similarly, when it comes to soaps, custom packaging is essential. As we know, soaps are used for cleaning purposes; thus, maintaining hygiene is crucial.  Therefore, The Cosmetic Boxes UK is here to provide you with custom soap display boxes that play a significant role in protecting the soaps and helps in your brand's marketing. 
Our durable and attractive soapboxes quickly draw potential customers towards your products and brand.
Custom Soap Display Boxes Provide Immense Protection 
Soaps are used in our daily lives and are directly connected to our health as they are used on our skin; therefore, it is vital to keep these products safe from contamination. Moreover, no one would like to purchase soaps that are damaged and covered with dust. 
Thus, we offer you robust soap packaging. We manufacture these customized soap boxes with high-quality material, ensuring complete product protection. These boxes help protect the soap from damage, contamination, heat, and moisture. 
"Quality Is Remembered Long After The Price Is Forgotten." So Our Main Concern Is Quality, Not The Price.
Also, these boxes help significantly preserve the shape and essence of soaps during shipping. The materials we use for custom soap display boxes are cardboard, rigid and eco-Kraft.
Enhance Presentation and Display Soaps Beautifully
Attractive soap packaging upsurges the value of soaps. We offer our customers beautifully designed custom soap display boxes. 
Moreover, these boxes look tempting and impress the consumers. The best thing about these soapboxes is that they are easily customisable. You can increase soapboxes' beauty in many ways that make them look stylish and compelling; for instance, you can design the boxes in unique shapes such as two-piece, tuck-end, and sleeve boxes.
Cardboard Display Packaging Boxes- Helps in Brand Awareness
It is known that soap businesses are increasing rapidly; therefore, influencing customers and making them buy your products has become tricky. Your packaging must be outstanding and appealing enough to get recognised among thousands of other goods. 
Our cardboard display packaging boxes are an excellent choice and help you prosper your business. These custom product boxes make a positive impression on your brand in the market.
Material Selection for Wholesale Display Soap Boxes
The quality of the material is always an essential part of the wholesale display soap boxes. Soaps are fragile products and need premium quality material for their packaging to ensure they don't get contaminated with dirt or germs. 
Here is a simple but powerful rule-
"Always give more than what customers expect to get!"
There are various options, such as cardboard, kraft, corrugated and rigid.

Cardboard material is the best choice for keeping the soaps safe and secure in the packaging. It comprises flutes and liners. The flutes are present between the two liners. The good point of this material is that you can increase its thickness by adding more flutes according to your need. 
This property makes the cardboard material stronger and more durable for soap packaging. Also, cardboard material has excellent moldability, so that you can mould it in any size, shape or form.
Besides that, Kraft material has an outstanding property in that it is recyclable and biodegradable. This material is environmentally friendly. Along with packaging, our main concern should be the safety of our nature. Also, this material is very durable for soap packaging and provides a perfect grip to hold the product and help them stay in its place properly. 
The other option is the rigid material if you don't want to compromise on the safety and appearance of your product. Rigid material would be the best option. It is such a sturdy material that it cannot mould into any other form or shape. 
Moreover, it is the thickest of all other materials. It provides excellent coverage and protection to the products. Therefore it is an ideal choice for soap packaging.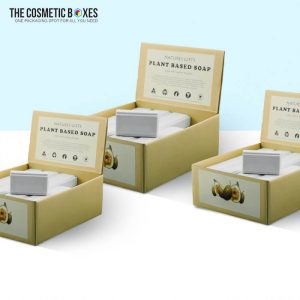 Most of the time, people tend to import and export custom soap display boxes. For this purpose, corrugated material is the best option. You can use this packaging material for shipping purposes. 
Corrugated packaging material comprises flutes, and you can increase its thickness according to the requirement. It is solid enough to overcome collisions and hurdles during transportation. The preferable flutes are E and F flutes.
Use Different Printing Methods to Advertise Your Brand
Real Luxury Is Customization!
Along with the quality, the packaging must be eye-catching and attractive. No one would like to buy a flat and boring soapbox. To make your packaging look stunning, you can use different printing options. You can advertise your brand by using these printing methods. The options include; offset printing, digital printing, and screen printing.
Offset printing:  ink is used in this method. It gives a clear and coloured image. This type of printing is use for all materials available.
Digital printing: It is a toner-based printing. It works as an office printer. Moreover, you will get vibrant and pigmented results. It is also cost-effective.
Screen printing: In this technique, a mesh transfers ink on the substrate. It gives incredible results and is widely used.
Secure Your Packaging with Beautiful Coatings
Coating adds beauty to the packaging and protects the product from external damage. There are many coating types, such as;
Matte Coating. Give a rough yet sophisticated touch to your wrapping through the matte coating. It gives boxes a simple but different look.
Glass Coating. Gloss coating reflects in the sunlight, thus, giving off a sparkling glow.
Add-Ons for Stylish Packaging
Different add-ons can give your custom soap display boxes a unique and attractive look and enhance purchasing power. 
Following are some structures that work for adding beauty to your soapboxes;
Foiling ( gold/silver)

Embossing/debossing

PVC window

Die-cut window
Our Packaging Makes Your Product Confident!
Are you ready to buy custom soap display boxes from The Cosmetic Boxes UK? If yes, hurry up. Book your orders now before the fantastic deals end soon. 
You don't have to worry about its appearance and quality because our expert manufacturers make sure to provide you with what you order from our online packaging company. In addition, our shipping time is very fast, so you don't have to wait for long!