Everyone wants to look beautiful. In this day and age, many people are obsessed with beauty. 
New cosmetic brands are popping up, whereas established ones hunt for innovative ways to present makeup items.
From lipsticks and mascaras to foundations and serums, makeup revolution box sets have enabled cosmetic brands to present and effectively market makeup products beautifully.
In this blog post, we'll dig deep into what makes makeup packaging so special and incredible with customisation possibilities and the enormous ROI of using it.
Main Types of Makeup Revolution Box Sets
A makeup box set can take different forms depending on the setting, situation, type of customers, and buying mode. 
For instance, the makeup selling needs of an e-commerce business are different from that of a brick-and-mortar cosmetic retail outlet.
Based on such differences, a clear makeup box can be classified into the following categories:
Subscription makeup box set

Retail makeup packaging

PR makeup gift box

Clear PDQ Display makeup box
Subscription Style
Businesses that send makeup products to customers monthly, quarterly, or bi-annually function on a subscription-based model.
Makeup revolution box sets in subscription-style is a mailer packaging.
Advantage of Using Mailer Makeup Box Set
E-commerce cosmetic brands leverage the solid built of these boxes to send makeup to customers safely.

The subscription-based businesses easily pack multiple makeup items in these boxes – in an organised manner.

Makeup in a clear mailer makeup box is looks organised due to add-ons like divided inserts and compartments.

These boxes are very stackable, handy, and easy to manage – so makeup kits can be stored in bulk – without taking up too much space.

These boxes offer ample space for printing branding and design elements. The costs of printing these boxes are low as brands do minimal printing, which looks more aesthetically appealing.
Retail Makeup Packaging
This type of packaging is the most popular form of makeup boxes. These boxes are ideal for presenting and showing makeup on cosmetic retail shelves effectively.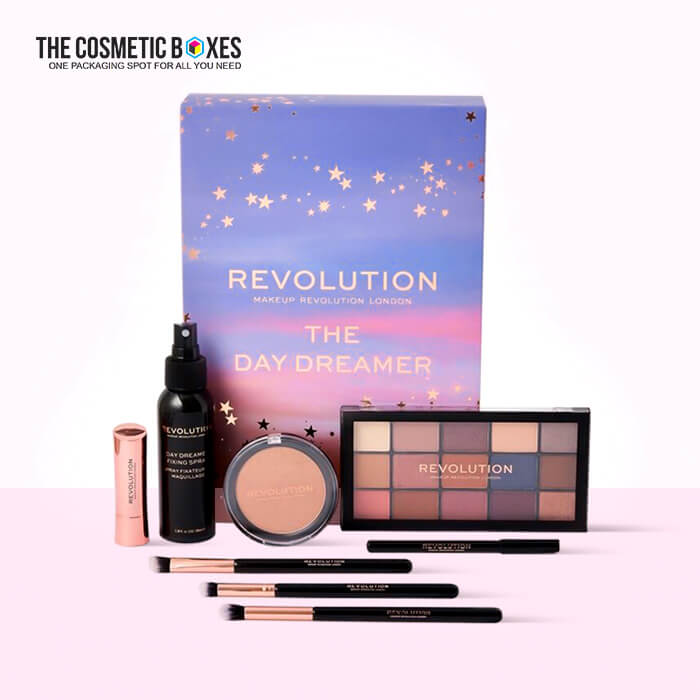 Benefits Brands Leverage from Using Retail Makeup Box Set
Such makeup revolution box sets feature intricate graphics and beautiful patterns that appeal to the senses.

These boxes effectively give a branded perception and nurture brand likeability in makeup lovers.

These boxes are very customisable – and can be creatively formed into different shapes, styles, and layouts.

These boxes are made from high-quality stock materials.

These boxes give off a luxurious appeal and are solid to touch when made from rigid material. Such a clear setup makeup box enables brands to attach a premium touch with makeup products and charge more.

Brands give customers perception of a nature-loving entity by creating makeup revolution box sets from eco-friendly kraft box materials.

Eco-friendly stocks help boost sales and revenue as customers are willing to pay a premium to cosmetic brands that follow sustainable packaging practices.
PR Makeup Gift Box
These boxes are a particular category that's used for promotional purposes. Businesses seek out relevant influencers with thousands and millions of followers to promote their products.
For this purpose, makeup brands send makeup items in PR makeup gift box packaging to influencers.
Benefits of Influencer Makeup Gift Boxes
These boxes are more significant than the mailer packaging and give makeup items a stunning look.

All makeup products look well organised and ooze a branded touch from serums and lipsticks to eyeshadows.

These boxes look premium due to their solid build.

These boxes enhance product presentation in every way – as the primary purpose is to influence an online audience.
Makeup Revolution Box Sets in PDQ Display Style
These boxes are specially used for small-sized makeup products like lip gloss, small foundations, single palettes etc. 
Minor cosmetics often go unnoticed, and to make sure such makeup items look prominent and beautifully organised, PDQ display boxes are seen as a perfect tool to do that.
Exceptional Value & Merit of PDQ Displays for Makeup Items
Such makeup revolution box sets ensure that makeup items are accessible and approachable.

These boxes foster impulse purchases.

These boxes are specially designed to display makeup items on points of sale, i.e., on paying cash counters so every leaving customer impulsively picks makeup boxes.

These boxes have a longer shelf life. This saves a lot of costs for cosmetic brands as the same displays can be used repeatedly to display more small makeup items.

Makeup items in these boxes look well organised and tidy. This creates a branded impression on onlookers.

Makeup revolution box sets can be made much more functional with add-on choices like inserts, die-cut cavities, dividers, tiers and punch partitions. 

These boxes are made from high-strength stock materials, making them protective enough.

Made from corrugated cardboard material, these boxes stay erect for long and keep makeup items on top to avoid accidentally falling.

PDQ displays are retail ready. The tear perforations of these boxes make it very easy to ship the packaging as it is, and instantly install them on countertops. 
Concluding this Blog Post
The Cosmetic Boxes is your one-stop packaging supplier with every customisation possibility available to create bespoke makeup revolution box sets. Our team understands your needs as a cosmetic brand and can deliver according to your requirements. 
Creating a high-quality and unique makeup gift box is an art that requires particular expertise, advanced tools, and techniques – and we have it all! Give us a call today or send an email.
Frequently Asked Question
Our expert consultants have answers to all your problems and concerns. Some most common customer concerns are:
Is there a minimum quantity of orders? No, there is no minimum quantity order. However, you can save a lot on large quantity orders!

Do you offer rush production? Yes, you can have the order delivered earlier than usual. 

How do I track my order? For tracking, you can email us, and your order's status will be shared within an hour.