Establishing a business is a tough row to hoe. Thinking of starting a new company, opening a new brand, or starting a new concept is easy. However, acting upon it and make it successful is a difficult task to carry out.
The first thing to think of is how to create business connections and let people know about your company. There are many ways to do so. But business cards have their own importance among other digital tools even today.
What are the business cards?
Business cards are basically something that bears business information about any company or individual. It contains an introduction that is easy to carry and memorize.
These cards represent your company in front of other businesses and people who come to build connections with you.
Moreover, it not only conveys all essential information like name, title, and contact details, but most of the times it is a first impression of the business on their clients.
Today, where there are a lot of other digital ways of building connections with people like linked in, business cards has its own importance. It is an effective tool for setting your company apart and introduce it to others in such a way that they refuse other options for you.
Here are some benefits of business cards that make it the best way of advertising, brand recognition, and spreading contact information.
Inexpensive way of brand promotion:
Promotion of brands is essential no matter what business you have. If people do not know about it, your business is nearly useless. For this reason, while planning of starting a business, people think about its promotion as well to estimate budget spending.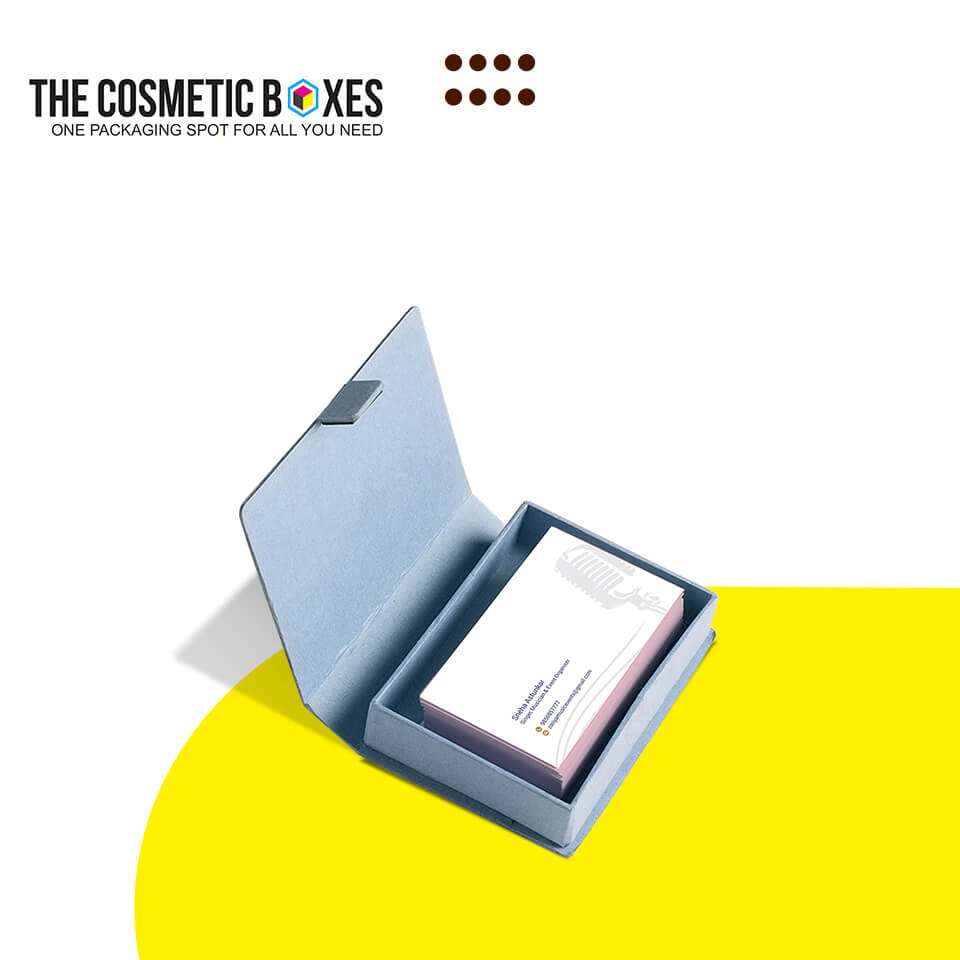 Business cards are the most effective and affordable marketing tool as compared to expensive ways. It is cheap, and you can get cards in bulk and low cost.
Moreover, you can increase the number of cards any time like while attending a trade show where there are more chances of building brand awareness.
People prefer something they can hold:
Cards are hard copies, and that is why people must have them while using other digital tools or marketing. Holding something, let people see it whenever, wherever they are. Additionally, it is something people can carry with them everywhere. For emails, they can see only during a specific time. Furthermore, sometimes people forget checking details of some brand digitally. However, cards let people remember as they can paste it in front of them like on the fridge, or the office's table.
Apart from that, remembering information is also a difficult task. We all can forget something we remember. It is not anything we can control. For this reason, business cards are a good option as they hold all the necessary information in one place.
Leave a lasting impression:
Business cards are the best way of leaving a good and lasting professional impression on clients. It is not wrong to say that business cards represent your company. People create an impression of a company based on its card. The reason is that it says a lot about your business and yourself. So, design business cardboard boxes properly and with care to impress people at a single glance.
Some ways to design business cards:
For designing a business card, you have to have a logo or a suitable colour theme of your brand. Similarly, think deeply about what type of card you would like to have. After having a sketch of all these things, you are ready to design your business card. All you need is to follow some steps, and you are done.
Select a desired shape and size:
Square is the traditional shape of cards. Most of the brands prefer this shape with a standard size. However, if you want to be different and get something unique, this option is also available. Get square cards with round corners or any other shape you need or have in mind.
Giving directions of accurate size is also essential. For this, have some idea about standard sizes. Like standard size in North America is 3.5×2 in. and European standard is 3.346×2.165 in.
After selecting size and shape, the second step is to give a beautiful visual effect. For this, first comes the logo. Design it in such a way that it becomes a centre of attention as it is the first thing that portrays your brand. After that, add some secondary graphics to make cards look more attractive.
Manage what need to be print where. For instance, the front area normally contains the logo, and the contact information is written on the other side.  All you need is expertise and guide to manufacturing the right business card.
Print essential information:
After designing the logo and appearance of cards, the next step is to print essential information. Not every card has the same information. For instance, freelancers do not print the address on cards as it is not necessary. However, face to face businesses needs it. Besides, the common choices that every card has are the name of the company and owner, job title, contact number, email, website URL, social media contacts, QR code, and slogan.
Choose an accurate text and font size. It must be easily readable and does not cover a lot of space at the same time.
Never forget to give special finish:
Giving final finish like embossing, debossing and foil stamping gives an extra appeal to the cards. Apart from that, use coatings as well to give a sheen or matte look. Spot UV coating is mire in use as it allows to give shine to a specific part.
Why boxes are important for business cards:
Business card boxes are essential to out cards at one place. Moreover, people keep cards on the reception counter to give it to everyone who visits their company. What can be a better option than rigid business card boxes to keep and display them beautifully at one place? Keeping cards in an appealing packaging show class and give a good impression on visitors.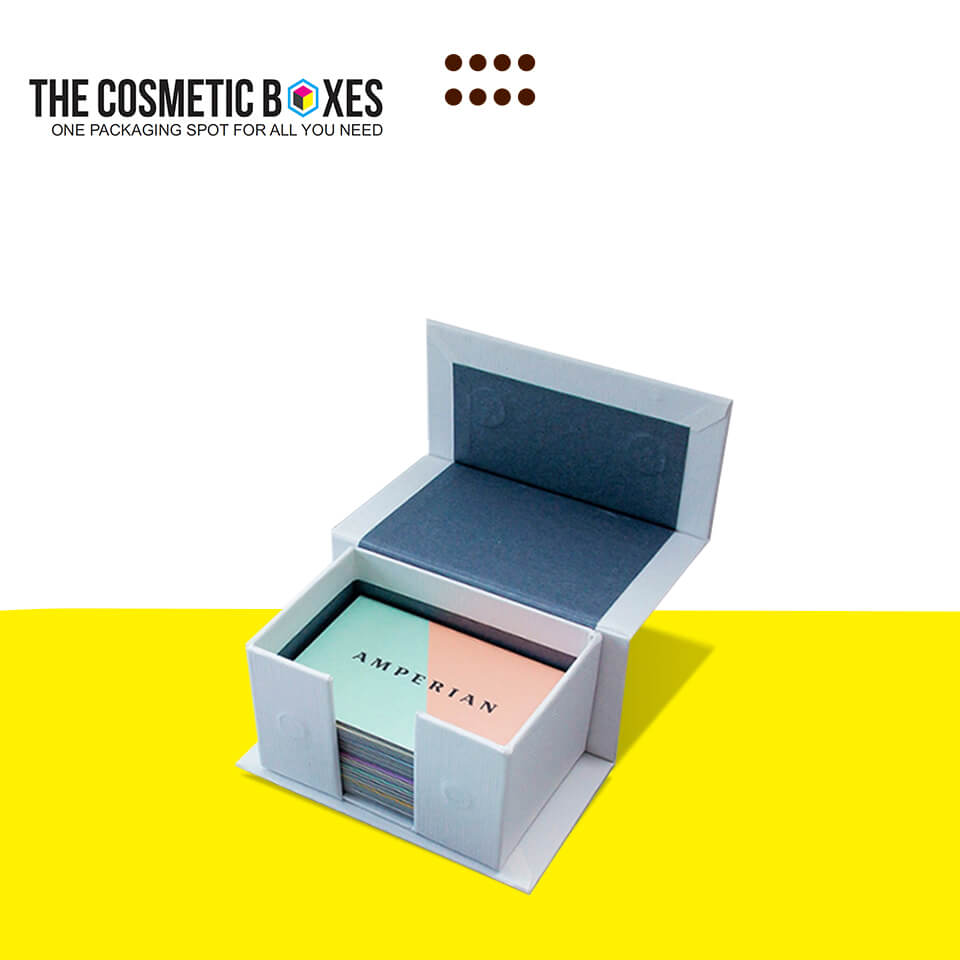 Apart from that, people tend to distribute business cards on special gatherings and meetings to build connections. What can be a better option than these boxes to keep cards at one place and carry them everywhere? Moreover, the durable and reliable packaging of the box keeps cards safe and sound during harsh weather and from excess external pressure. All you need is to design every inch of the packaging properly and choose a material that is heavy duty and can withstand every situation.
Which company should you approach?
Contacting a packaging company that knows its work well is difficult. There are a lot of options in the market. However, choosing the right one is different. You cannot guess which company know its work well, just like that.
The Cosmetic Boxes – UK is one of the best packaging companies in the UK. Additionally, this company is working for many years and has satisfied many customers. Moreover, most of the customers prefer them for ordering again by getting satisfied with their service and results.
You can get your business card boxes UK from this company as well as it guarantees good results. To satisfy customers, they send 2D and 3D mockups. In this way, customers can see the final sample of the box and can do changes if they want. It saves them for future tensions.
Apart from that, for people who do not want mockups, they offer physical sampling as well. All they care is to make customers happy with their services as they believe in good business relationships.
Do you want to order business card box from this company as well? Go to their website get contact information and place an order for a business card holder box now.